A Jewish Home Away from Home
OSU Hillel: Today and Yesterday
Hillel programming today includes student groups such as Buckeyes for Israel, Greek Life Program, Jewish Business Students Association, Bnei Keshet, Jewish Pre-Medical Association, Starfish Social Action Team, the Student Board, Ask Big Israel Questions, and the Meshuga Notes. Hillel also provides programming catered toward graduate students at Ohio State. These student groups continue to carry on the tradition of vibrant Jewish life at Ohio State by advocating on behalf of Israel, doing community service, remembering the Holocaust, and creating a stronger Jewish community.
Building History
The B'nai B'rith Hillel Foundation at The Ohio State University was founded in 1925. This was the third Hillel to be founded in the country.
The original OSU Foundation was located in a large home at 96 East 18th Avenue, just east of Ohio State's campus. The Foundation was located in its first home from 1925 until 1934, when a need for a larger space surfaced.
The Hillel Foundation moved a short distance from its 18th Avenue location to 46 East 16th Avenue in 1934. Hillel's second home, a three-story building, had rooms for activities, offices, a library, and a game room. The top floor was reserved for live-in caretakers.
The Ohio State Hillel's third home was in the Schanfarber Memorial Building. Built in 1948 on the same plot of land, 46 East 16th Avenue, this building was the first building to be designed and built specifically to be a Hillel. The building was dedicated on February 6, 1949, in honor of Edwin J. Schanfarber, a graduate of Ohio State's Law School. While the building was in memory of E.J. Schanfarber, the chapel was dedicated as the Hillel War Memorial Chapel, in honor of the 50+ Jewish students who lost their lives in the Second World War.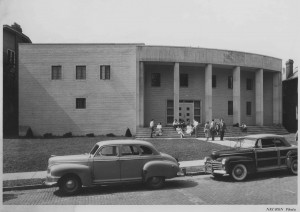 The Schanfarber building provided more space for increased programming and hundreds of involved students. The goal of the new building was to give Hillel students "A Jewish home away from home."
Ohio State's Hillel leadership once again saw need for a new building to house the Hillel Foundation in the late 1980's. In 1990, the OSU Hillel commenced a large fundraising campaign, which included a presentation to the Wexner Foundation, owned by Leslie Wexner, the owner of many clothing companies and a philanthropist in the Columbus area. The OSU Hillel was not a stranger to requesting funds from the Columbus community—it was the first Hillel to create a community-based endowment fund.
Once enough money was pledged to the Foundation, the building of the Wexner Hillel Foundation began. The construction lasted throughout the years 1993-1994.
The now-named Wexner Jewish Student Center is still located on 46 East 16th Avenue. The new building offers amenities including a library, rooms for meetings, offices for Hillel Staff, an auditorium, an art gallery, and two firsts for any Hillel Foundation: a fitness center, and a Kosher restaurant, which is frequently visited by OSU students as well as Columbus community members.
Hillel Leadership
Ohio State's first Hillel director (1925–34), was Rabbi Lee Levinger, who received his bachelor's degree in Chicago, master's at Hebrew Union College in Cincinnati, and a PhD from the University of Pennsylvania. Levinger's other accomplishments include serving in the US Army as a Chaplain in France during World War I, authoring two books (A Jewish Chaplain in France and Anti-Semitism in the United States), and lecturing in philosophy at Ohio State.
Hillel's next director (1934-69) was Rabbi Harry Kaplan. Before his employment at Ohio State, Kaplan spent nine years as a congregational Rabbi in Massachusetts. Rabbi Kaplan's involvement in the Columbus Jewish community was not limited to the Hillel Foundation: he was a past president of University Religion Council of Ohio State as well as the Columbus Torch Club, a member of the board of Ohio Citizens Council, and was also one of the founders of Columbus Town Meeting. Rabbi Kaplan was the officiator of many weddings of students, alumni, and other families during his tenure.
Other past directors include Rabbi Nathan Gaynor (1969–71), Aaron Leventhal (1971-80), Rabbi Howard Alpert (1980–86), and Rabbi Steven Abrams (1986–93).
In 1993, Joseph Kohane was recruited to OSU Hillel to make major programming changes. A child of holocaust survivors, Kohane was born in Poland in 1953, and grew up in Brooklyn, following his family's immigration to the United States in 1959. After attending a Hasidic day school and an Orthodox high school, Kohane graduated from Hunter College with bachelor's degrees in English Literature, Psychology, and Jewish Studies. For graduate school, he was interested in exploring a liberal Jewish tradition and spent one year studying at Hebrew Union College in Jerusalem. Kohane pursued graduate school at McGill, earning a master's degree in Jewish Studies, with a focus on parshanut, or Jewish interpretation of the Bible.
Kohane felt that he didn't fit into any particular Jewish denomination, which is why he found the Hillel Foundation to be a perfect fit. He explained: "It's not about us, it's about the journey of the student that we're trying to facilitate."
Kohane's first position at a Hillel Foundation was as a Programming Director at the University of Michigan, where he eventually became the Associate Director. He had a deep interest in working with people at a religious crossroads, where he often found himself, and according to Kohane, college students were the demographic most open to exploring religion. He was driven to change the face of the Michigan Hillel with new ideas for programming and advertising.
Because of his innovative ideas, he was sought out by Ohio State Hillel, and was asked to come and work as the director during a transitional time—the construction of the Wexner Hillel Foundation from 1993 to 1994. Kohane's impact on the Ohio State Hillel Foundation has been great; his leadership made the OSU Hillel a model institution for other Hillel Foundations with its new approach to marketing, image, and presence on the university campus.
In 2023, OSU Hillel said farewell to Kohane after 30 fruitful years and welcomed Naomi Lamb as its new CEO. Lamb brings to the position deep experience in the corporate and Jewish nonprofit worlds. She is the first woman to lead the organization and the first leader to have been an OSU student. She earned a BA in Jewish Studies at Ohio State as well as a master's in Human Resources. "I've always really loved the organization," Lamb says. "It had a tremendous impact on me when I was a young adult, and the opportunity to work with students at that moment in their lives—when they're on their own for the first time, when they are really exploring their Jewish identity and figuring out how will that look when they venture off into their adult lives, when you think about creating a thriving Jewish community—it [all] starts there."
Compiled by Becca Nitzberg, 9 June, 2011; updated by Josh Tolle, 23 May, 2023. (For the full history of OSU Hillel, see the article from the Columbus Jewish Historical Society.)