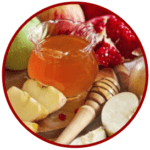 High Holidays 2023/5784 Services
August 22, 2023
HIGH HOLIDAYS 2023/5784
Join us for all the High Holiday Meals, simply RSVP today!
Yom Kippur
Sunday September 24
Pre-Fast Dinner: 5:30PM
Menu;  Home made sweet challah, Matzo ball soup,
Chicken Schnitzel with fresh lemon, Mashed Potato w/ gravy (GF Baked Chicken available)
Garlic Green Beans, coffee and Apple Crisp following dinner. (GF Apple Crisp available)
Vegetarian entre; Veggie stuffed roasted acorn squash and above sides
Monday September 25
Break the Fast: 8:04PM
Fresh bagels, cream cheese, lox, tuna salad, egg casserole, breakfast potatoes, orange juice, coffee, sweets and MORE!
Vegetarian and GF options available; hummus, Israeli salad, fresh fruit
*Free for current students (OSU or in the area) with Valid Student ID.
Friends, Family, and Community are welcome to join our students for High Holiday meals, but are subject to a meal charge paid in advance.
To sign up for High Holiday Services, please click here.
Contact Hillel at hillel@osu.edu with any questions.
High Holiday Meals
September 15, 2023 - September 25, 2023
7:15 pm - 8:05 pm
Address:
46 E 16th Ave, Columbus, Ohio, 43201, United States